SAMS PLAYER'S CLUB
PLAYER'S CLUB
*PARTICIPATING LOCATIONS:
Sam's Boat RichmondSam's Boat Seabrook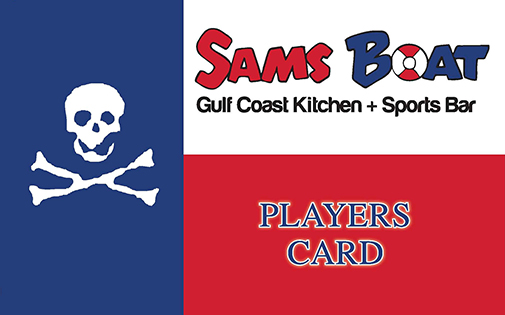 Join our complimentary Sam's Players Club and start accumulating points towards your next purchase at any *participating Sam's Boat restaurant location. All Sam's Boat food and non-alcoholic beverage (NAB) purchases receive a 3% credit with every purchase when you use your Sam's Players Club card. Plus, you'll receive discounts on admission charge for major Boxing and UFC events. Credit can only be redeemed for food, non-alcoholic beverages and Sam's Boat merchandise. We promise to protect your contact info and privacy – no reselling or redistribution. Level up to Gold, Platinum or a Black card to receive even more discounts and benefits!
Sign up below for your FREE Players Club card!
Need a replacement card? Simply e-mail us at playersclub@samsboat.com.